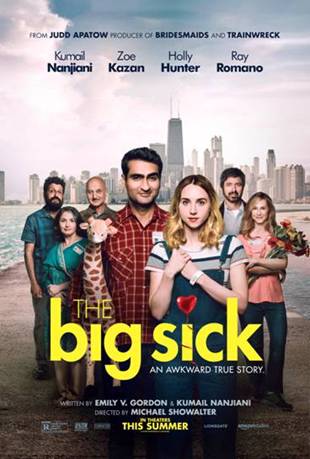 It just occurred to me that The Big Sick is the second Secret White Girlfriend film I've seen in the past two years. The other was Meet the Patels.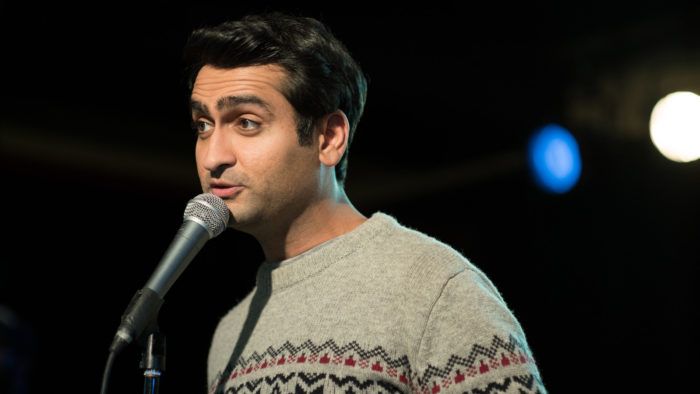 Like Ravi in that charming documentary, Kumail Nanjiani's character (a fictionalized version of his real self) is a South Asian man in his late 20s attempting to keep the peace at home with his traditional Pakistani parents, who expect him to marry a nice Pakistani girl, while the rest of the time, trying to make his way as a stand-up comic in Chicago. Kumail falls in with Emily (portrayed with intelligence, warmth and subtlety by Zoe Kazan), a young graduate student he meets after one of his sets.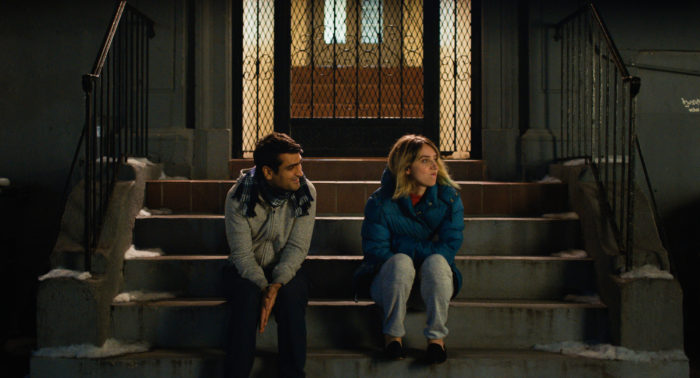 Both are happily single and not looking for a relationship at all, but Kumail and Emily enjoy each other's company so much, they soon become a couple. As many hyphenated guys before him walking this line, Kumail compartmentalizes his life, keeping Emily and his family cordoned off from each other, and even goes through the motions for the multiple "serendipitous" drive-by appearances of young single Pakistani women who appear just as dessert is being served at the family dinners.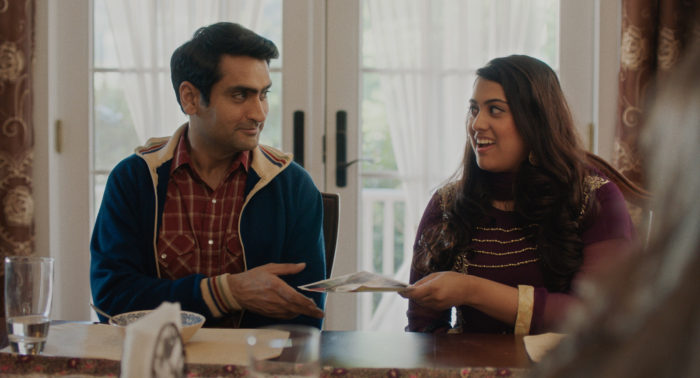 Several months on, when Emily learns Kumail has never told his parents about her, and he admits he can't see a way forward, she leaves, heartbroken. This all transpires early on in the film.
But Kumail finds himself suddenly pulled back into her orbit when Emily is hospitalized with a mysterious illness and put into an induced coma, while the doctors scramble to identify the cause and cure.
The second act of the The Big Sick throws Kumail and Emily's parents, Beth and Terry (Holly Hunter and Ray Romano), in close quarters at the hospital as they keep vigil over Emily. He is an unwelcome presence because her parents know what led to their break-up, but Kumail refuses to go.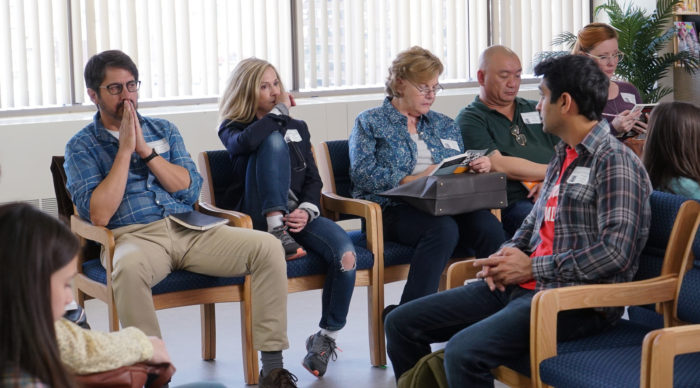 What takes places over the rest of the film is Kumail grappling with her parents and his own, as he tries to find a third path and keep everyone in his life.
Before you think "Ugh, hospital drama, how depressing. Pass!" hear me out! The Big Sick is a comedy. Yes, really. Whether it's at the Nanjiani dinner table, with the charismatic father (Anupam Kher) extolling the virtues of his new designer jeans, or at Emily's apartment, where Kumail and Beth and Terry bump up against each other, all blank-eyed from the shock of what's happening, there is humor there too, very often in lines delivered in Kumail's droll, deadpan voice or Ray Romano's slightly bewildered, slightly defeatist what-are-ya-gonna-do? tone that has been his signature first as a comedian and then on Everybody Loves Raymond.
And then there are the laughs between Kumail and Emily, many rooted in the very true-to-life experiences they share. One such source of merriment comes from a young woman's post-coitus thought process and coping mechanism when nature calls and the young man's bathroom is just a few inches from where his roommate is sleeping and there's no matches, air freshener or scented candles nearby. How Kumail handles this (with kindness and empathy, and yes, some laughter) is what makes him so endearing to Emily and to the audience. Very much like the actor playing his would-be father-in-law, Kumail Nanjiani manages to come across as a genuine good guy who is also smart and sexy.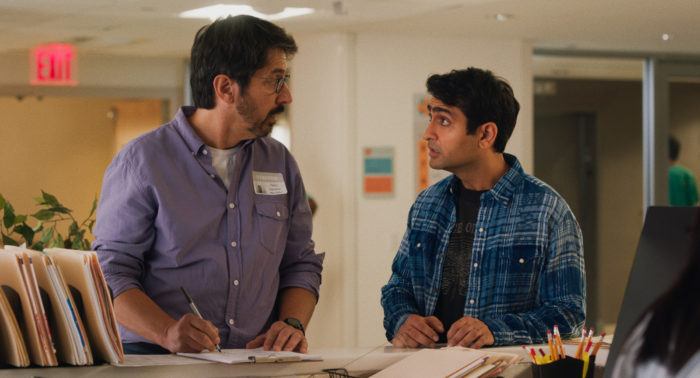 Anupam Kher (who any Hindi movie fan will recognize from his hundreds of Dad roles) is wonderfully authentic and understated. In a switch on so many stereotypical films which portray the pater familias as the stern baddie and the mother as the simpering peacemaker, here it is the mother (Zenobia Shroff) who puts her foot down the hardest when opposing Kumail's choice of mate, and Anupam Kher the soft-hearted one who has to broker the peace.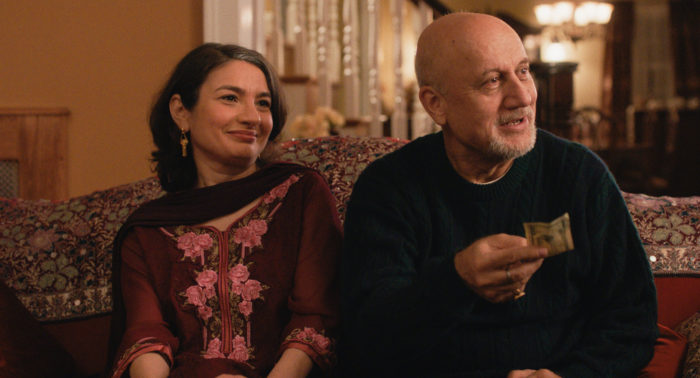 Holly Hunter has been a source of wonder to me since Broadcast News and The Piano, but what sealed her goddess status in my eyes was her more recent work as the lead character in the TV series Saving Grace, where she played a brave and loving (and sometimes foolhardy) kick-ass homicide detective in Oklahoma.
Here, as Emily's mother, Beth, she is brittle and fierce and whipsmart, and wonderful. While one half of my brain kept thinking "Damn, I love Holly Hunter", the other half kept thinking "How cool and loving is this mother!?" When the trio retire to Emily's apartment to get a few hours of sleep before a big procedure the next day, as they walk into the living room, Beth grabs the sleeve of a sweater hanging on a coat rack and sniffs it, inhaling her daughter's scent. At that detail, I could feel tears springing to my eyes.
Hunter pairs up beautifully with Ray Romano, who is a less spiky presence, but also an intelligent and loving parent. They are effortlessly believable as a long-married couple.
If there was anything I would have changed, I think I could have done with less of the stand-up scenes of Kumail's friends at the club. After seeing him on stage and backstage a couple of times, that established his bona fides. But this is a minor quibble.
Final thoughts
There are some movies I classify as the never-on-a-Sunday-evening type. They're the ones that are too stark or depressing to watch as that end-of-the-weekend pall begins to descend, because I know I'll feel thoroughly miserable by the time I exit the theater. This is not one of those films.
The Big Sick is a grown-up rom-com with much heart that doesn't shy away from topics like Islamophobia, while deftly striking a balance between the seriousness of Emily's illness and the humor lurking around the edges of almost any situation. Don't miss it! And if you're in New York this weekend, you can meet members of the cast for Q&As at these screenings:
When: Friday, 6/23
Where: AMC Lincoln Square
Showtime: 7 pm
Q&A after film with Kumail Nanjiani, Emily V Gordon, Zoe Kazan
When: Friday, 6/23
Where: Regal Union Square
Showtime: 8:30 pm
Q&A after film with Kumail Nanjiani, Emily V Gordon, Zoe Kazan
When: Saturday, 6/24
Where: Regal Union Square
Showtime: 6 pm
Q&A after film with Kumail Nanjiani, Emily V Gordon, Zoe Kazan
When: Saturday, 6/24
Where: AMC Lincoln Square
Showtime: 7:45 pm
Q&A after the film with Kumail Nanjiani, Emily V Gordon, Zoe Kazan
Save
Save