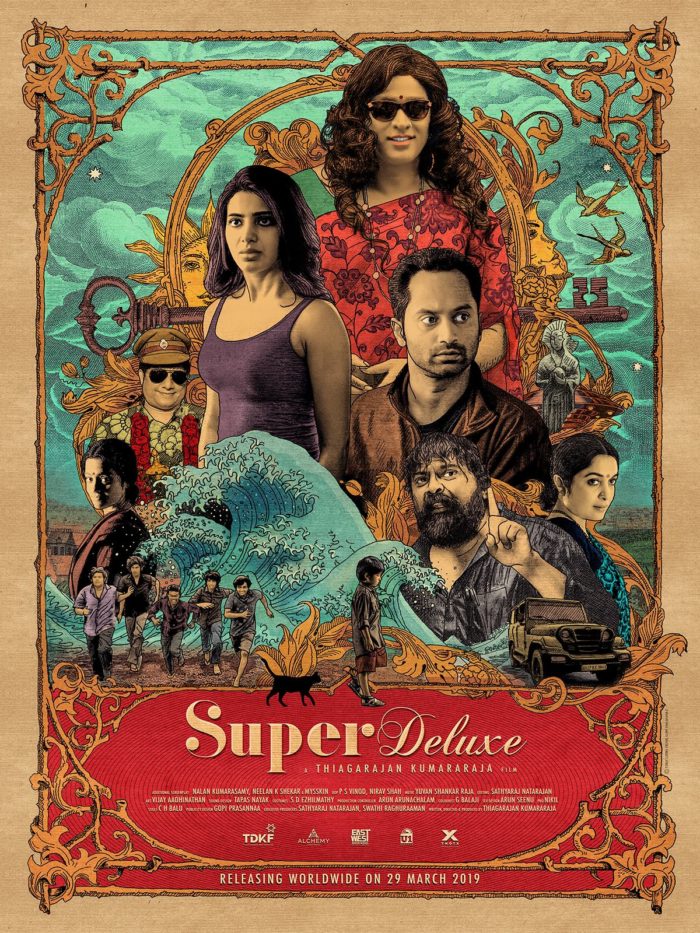 Take one statuesque transgender absentee father, a would-be godman reborn from the sea, a former porn actress and devoted mother, four horny teenage boys, a film-savvy loan shark, one unfaithful newlywed wife and her cuckolded husband of six months, a very, VERY bad cop, one firecracker of a young son, oh yes, AND a cadaver – and you have the main line-up of dramatis personae in Thiagarajan Kumararaja's long- and much-anticipated Super Deluxe.
The director's second film, after his widely-loved and under-distributed Aaranya Kaandam, takes place over the course of one day – and a very full day it is – encompassing sex, death, money, paternal estrangement, bullying, rape, matters of faith in God or a god, teenage lust, the after-effects of the 2004 tsunami, occasional rants about the state of the country, and some astute and on-point observations about the intimate aspects of life between couples.
While cinephiles will find Super Deluxe packed with nods, winks and outright shout-outs to other films, I found myself reminded of books I've loved in the past for all the layers and multiple worlds they contained. At the sublime end of the spectrum, Ondaatje's The English Patient and all its swoops between Italy, Egypt and beyond, and the delights and surprises of one branch blooming off into many delicious side stories. At some opposing point on that spectrum, I found myself remembering Colin Bateman's Divorcing Jack, a rather frantic and madcap tale set in Belfast, dripping with black humor.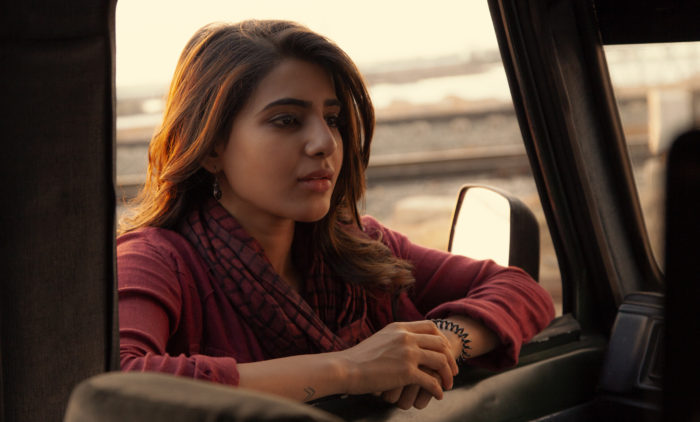 Kumararaja has assembled a line-up of the best from the southern film world (Vijay Sethupathy, Fahadh Fassil, Samantha Akkineni, Mysskin, Ramya Krishnan) and unlike the bro-fests typical of so many Tamil movies, here the girls run the world (or, at least, they are the root causes of the various story lines and the ones who move matters toward their resolution). Both Samantha Akkineni as Vaembu and Ramya Krishnan (who I first came to love in such choice morsels –ahem- as Banarasi Babu, Bade Miya Chhote Miya and Panchathanthiram) as Leela have dared to take on roles that I would guess several other actors of their level would have sidestepped for fear of what it might do to their image or fan following, especially when emotions can be so easily stirred and manipulated on social media.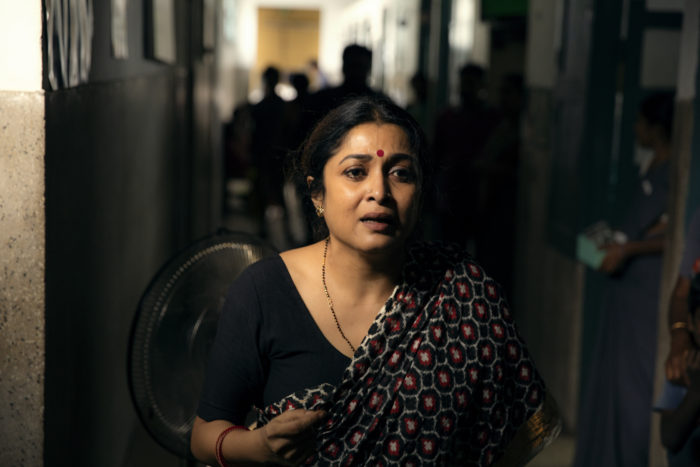 And then there's Vijay Sethupathy as Manickam, the father who fled Chennai for Mumbai to become the woman he really was all along, Shilpa. Sethupathy took a massive and brave leap and disappeared into the role, to the point where you forget it's him. Yes, the eyes and the smile are there, but in the way the actor carries himself and just gives in to Shilpa, it's so compelling, you'd want to watch her/him/them for hours.
My absolute favorite scene in the whole film is the one where the newly-returned Shilpa borrows a baby blue sari with red roses and red tassels from his wife and dresses to go visit his son Raskutty's school. As Sethupathy's Shilpa stands in front of a mirror, vulnerable after being away for seven years, yet so clearly convinced of who she has become, and looks at herself approvingly as she masterfully folds, and folds, and folds, then wraps the sari with quiet confidence and grace – it was bewitching.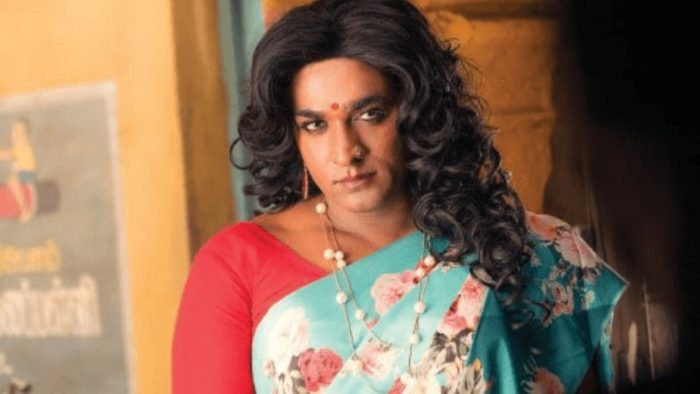 It really is Shilpa's movie and through her Kumararaja has opened a window into what life as a transgendered person might be like – the slights, the intentional use of the wrong pronouns, the threats, the taunts, the risk of an innocent misunderstanding quickly escalating into violence. She wins your heart and, in the end, you want her to be happy. Ashwanth Ashokkumar, who plays young Raskutty, is a little charmer and total natural who avoids falling into the overly cute, diabetic-coma-inducing performances of some onscreen kids.
But don't get me wrong, this film isn't a melodramatic weepy. Technically, it's described as a thriller, but it's hard to easily box it in anywhere. There is some great humor, and also at times it feels like a caper, like when the porn-seeking teenage boys find themselves under the thumb of a crime-boss-cum-loan-shark, who sends them off on a mission to earn the money he's giving them. But then there are also moments of veritable peril and tension, often in the scenes involving the revolting Officer Berlin, and helped along by Yuvan Shankar Raja's music which is truly unnerving.
Final thoughts
Don't miss it!
Super Deluxe is like my suitcases when I come back from India, bursting with so many goodies the airline attaches one of those HEAVY tags to the handle.
On top of the snakes-and-ladders of all the crisscrossing story lines, and the rich, layered characters, and the artful photography, you have so much exquisite texture and detail in the set designs that I'm going back to see the movie a second time this weekend to take it all in again.
Yes, when I saw it mid-week, at the end of a very long day, I felt that in those 2 hours and 56 minutes there was a little lag in the middle, but as I backtrack and try to think where anything could have been trimmed, I'm not sure if that wouldn't have unraveled the whole thing. I'm curious to see if I feel the same after a Saturday viewing, going into the theater well-rested.
Thiagarajan Kumararaja has more than delivered on the promise of Aaranya Kaandam and managed to deftly trounce any can-he-or-can't-he-pull-off-the-sophomore-movie doubts. (Actually, I'd imagine the pressure is really on now for whatever his third film will be.) Kumararaja's thumbed his nose at so many conventions and produced a film that not only careens around Chennai on all sorts of adventures, it also manages to tackle bigger existential questions, with heart and a level head.
Director: Thiagarajan Kumararaja
Cast: Vijay Sethupathy, Fahadh Fassil, Samantha Akkineni, Mysskin, and Ramya Krishnan
Producers: Tyler Durden and Kino Fist
Writers: Nalan Kumarasamy, Neelan K. Sekar, Mysskin, and Thiagarajan Kumararaja
Directors of Photography: P.S. Vinod and Nirav Shah
Editor: Sathyaraj Natarajan
Music Director: Yuvan Shankar Raja
Super Deluxe opens March 29th on 100 screens across the US and Canada.